Events in Worcester

Beesloop Farm Race 15km and 5km

Marathons & Half Marathons Sporting Events
Please Note
This event has already taken place. All details published in good faith, as supplied by the organisers. Please check our current and upcoming events list for events to attend.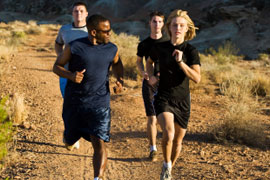 You can't get much closer to a farm race than this one! The circular route passes through orchards, vineyards and over a dam. There is a small stretch of tar but otherwise the race is run on gravel.
There are three watering points; all very enthusiastically manned by school children. Medals go to the first 150 finishers and there are plenty of lucky draw prizes.
The farm race is held in conjunction with the Worcester-East Primary annual fundraising and it offers all the fun a country fete can offer. Walkers are welcome and there is a fun run. Entries are taken at the start.