Events in Mont-aux-Sources

Mont-Aux-Sources Challenge

Outdoor Events Sporting Events
Please Note
This event has already taken place. All details published in good faith, as supplied by the organisers. Please check our current and upcoming events list for events to attend.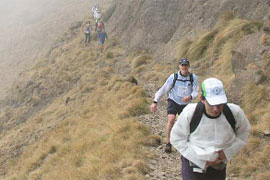 A 50km solo trail run that takes place in the Drakensberg. The Mont-Aux-Sources Challenge has been running for 16 years in partnership with Ezemvelo KZN Wildlife.
It is a 50km cross country run from the Royal Natal Park entrance to the Ukhahlamba-Drakensberg World Heritage site to the top of the Sentinel and back again. This exclusive event has a limited field of 250 runners and was voted the best running race of the year for 2006 and 2007. There is a waiting list so book early.
Distance: 50km Trail Run
Venue: Mont Aux Sources, Royal Natal National Park, Drakensburg
Contact: + 27 (0)33 343-1917 for more informaton