KwaZulu Natal Events
KZN Midlands Highland Gathering (Balgowan)
When: Saturday, 03 May 2014
Where: Amanzimtoti
Categories: Annual Festivals / Outdoor Events
Stay overnight: See accommodation in Balgowan, in KwaZulu Natal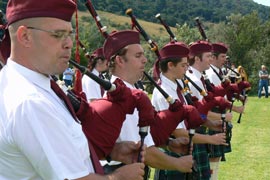 The KZN Midlands Highland Gathering will be held at Hutcheson Park and will encompass festival events, exhibitors, food stalls, highland dancing and athletic games typically found at a Scottish Gathering such as the Breamar Games. A full day of activities and festivity will have the atmosphere filled with energy and will entertain guests with Scottish dancing and pipe bands that will run throughout.

The event will generate interest and enthusiasm in the Midlands (and beyond) communities of Scottish ancestry and the general public who enjoy the unique activities found at Highland Gatherings and in so doing, create an event that will be held annually.

Venue: Hutcheson Park, Amanzimtoti, KwaZulu-Natal
Stay a Day or Two?
Find Accommodation in Balgowan
When city life becomes too much for you, get in your car and head for Twin Pools. A tastefully decorated four-star guesthouse, Twin Pools Lodge ...
Situated in the heart of the Midlands, but far enough off the beaten track to allow for relaxation and tranquility, we are a family based ...
Related Pages
Balgowan Tourism
• Things to Do in Balgowan
• Natal Midlands Self Catering
• Natal Midlands Special Offers
• Natal Midlands Accommodation
• KwaZulu Natal Accommodation