Events in Krugersdorp

SA National Drag Racing Championship

Annual Festivals Sporting Events
Please Note
This event has already taken place. All details published in good faith, as supplied by the organisers. Please check our current and upcoming events list for events to attend.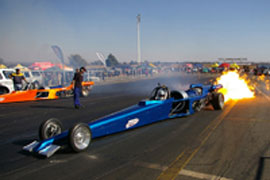 This event will mark the beginning of the 2014 season for the South African National Drag Racing Championships. Spectators will be guaranteed intense racing by some of the country's fastest drivers.
The must see Westinghouse Jet Dragsters will also be showcased at this event along with many other fuel injected racing cars making this event not to be missed by drag aficionados. South Africa has never seen this level of drag racing before so bookmark this occasion!
Round 1 - 21 March - Completed
Round 2 - 28 April - Completed
Round 3 - 16 June
Round 4 - 10 August
Round 5 - 24 September
Round 6 - 26 October
Gates Open: 07h00
Entrance Fee: R80 per person and R40 per child (6 to 12 years)
Venue: Tarlton International Raceway
Contact: Nico on +27 (0)11 762-5431 or +27 (0)83 309-8461 for more information.