Mpumalanga Tourist Attractions
Panorama Route, Mpumalanga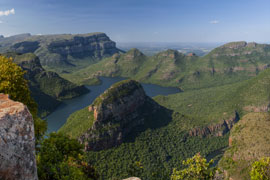 Once you've booked your hotel or found Panorama Route accommodation to suit your needs, explore our destination pages below for info on attractions, events and what to do in the Panorama Route Region.

The magnificent Panorama Route is best known for its cultural heritage and its dramatic landscapes. Offering a vast array of exciting options for the visitor, the Panorama Route hosts some of the best adrenalin enhancing adventures as well as some more sedate pastimes.

One of the major highlights of the region is the Blyde River Canyon Reserve, home to spectacular wildlife and birdlife and some of the best views in South Africa. The Blyde River Canyon is the third largest canyon of its kind in the world. Other highlights include the exquisite waterfalls in Graskop and Sabie, the Echo Caves that speak of Africa's powerful tribes such as Pedi, Mapulane and Swazi, trails left behind by the Voortrekkers in regions such as Lydenberg and Ohrigstad, ancient artistic footprints left by indigenous peoples of Africa and the Gold Rush territory, Pilgrim's Rest, home to the early gold prospectors.

Additional Reading:
If you are planning to visit the Panorama Route you may find this article interesting: The Breathtaking Panorama Route (A visitors perspective).
Panorama Route
Destinations / Town & Suburbs of Panorama Route
Panorama Route
Featured and "Must See" Attractions in Panorama Route
Panorama Route
Featured Things To Do in Panorama Route
Panorama Route
Holiday Accommodation in Panorama Route
For accommodation in Panorama Route see:
• Graskop • Hazyview • Kiepersol • Ohrigstad • Pilgrims Rest • Sabie

Or to see all accommodation in the region at once, visit Panorama Route Accommodation.

destinations / attractions in mpumalanga