Gauteng Destinations
Kempton Park, East Rand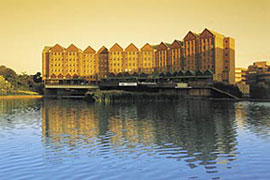 Once you've booked your Kempton Park accommodation explore our pages for info on attractions and what to do in Kempton Park.

Kempton Park is a large town situated on the East Rand in Gauteng, South Africa. Kempton Park was established in 1903 when Karl Wolff sub-divided a portion of his Zuurfontein farm into residential stands and named the new village Kempten after the Bavarian town of his birth. Soon after, the name was anglicized into Kempton Park. In 1952 the Jan Smuts Airport was built on the land next to the town. The airport's name was changed to Johannesburg International Airport in the late 1990s and to OR Tambo International Airport in 2006.

Kempton Park boasts over 5 Major High-schools, numerous entertainment and sporting facilities and is just minutes away from large shopping malls as well as many other amenities. Accommodation facilities here are superb and ideally situated as it is very close to the international airport. Experience tasty foods in one of their many fine restaurants or spend the evening sipping refreshing cocktails at a trendy nightspot.

Kempton Park is next to one of the largest townships in South Africa known as Tembisa. It also boasts a large industrial zone known as Spartan which holds many chemical manufacturing and other industrial sites. In addition, Kempton has a large coal power plant known as "kelvin power station". Kempton Park is a quaint residential suburb with marvelous amenities and generally, a great place to settle down.
Get the Scoop
Kempton Park Reviews
Visitorials: We Love South Africa
Kempton Park Visitorial

Related Links
Featured Attractions in (or near) Kempton Park
East Rand Mall
East Rand Mall is situated 7km away from OR Tambo Airport. The Mall includes all of South Africa's Major Chain Stores and a host of smaller specialised stores. Extensive entertainment facilities, which include a Games Arcade, Restaurants, Coffee shops, a nine theatre Cinema Centre and an exciting Food and Entertainment Mall.

The Kempton Park Golf Course is on the corner of Plein and Green Avenue in Spartan, Kempton Park. Ernie Els learnt to play golf at the Kempton Park parkland Golf course. Excellent clubhouse and 19th hole. Open Mondays. Visitors welcome everyday except Saturdays and Sunday mornings. more information
Formerly officially known as Johannesburg International Airport, the OR Tambo International Airport is a large airport near the city of Johannesburg, Gauteng, South Africa. It serves as the primary airport for domestic and international travel to or from South Africa. It is Africa's busiest airport, handling over ... more information
Related Links
Things To Do in Kempton Park

Where: Kempton Park
How much (per person): Free to Browse
Shop for all of your daily essentials at the convenient and safe Bonaero Park Shopping Centre. The mall offers a wide variety of shops inclu ... more information

Where: Kempton Park
How much (per person): R2001 - R3000
Calling all adrenaline junkies!!! Do you have the need for speed??? Rallystar motorsport academy will give you an incredible experience neve ... more information
Related Links
Restaurants in Kempton Park

Where: Kempton Park
If you are looking for a sumptuous Al Fresco breakfast or romantic candlelit dinner, why not visit the conservatory designed Aurelia's restaurant situated on the northern façade of the D'Oreale Grande ... more information

Where: Kempton Park
You will find Fu Li Hua situated at Emperor's Palace in Kempton Park. With a total seating capacity of 259, it can lay claim to being the biggest Chinese restaurant in South Africa and has been operat ... more information
Related Links
Events and/or Festivals in Kempton Park

June

August
Related Links
On Holiday in Kempton Park
• Kempton Park Map
• Kempton Park Events
• Kempton Park Accommodation
• Kempton Park Hotels
• East Rand Accommodation
• East Rand Hotels
• Gauteng Accommodation