Things To Do in Kempton Park

Birch Acres Mall

Where? Andrew Mapheto Drive, Phomolong, north of Kempton Park, Gauteng

When? Monday to Friday from 09h00 to 18h00. Saturdays from 08h00 to 14h00. Sundays from 08h00 to 14h00.

How? Call Not supplied

How much? Free to browse

Overnight? Stay at accommodation in Kempton Park, in Gauteng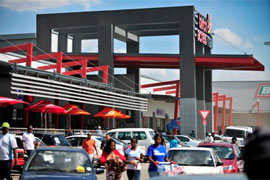 Birch Acres Mall is South Africa's newest township shopping destination! You'll find the mall north-east of Johannesburg and just north of Kempton Park.
The mall offers visitors just over 26 000m˛ with more than 65 retails stores. Browse through the selection of stores from healthy and beauty to clothing, banks and food as well as well known stores such as Edgars, Spar, KFC and Woolworths.
Find the public parking area on the western side of the mall along with a large taxi rank, which makes it easy for transport to and from the shopping centre. The mall is fenced with gated entrances for vehicles, you will also see the security guards on duty as they offer round the clock security.