Gauteng Destinations
Halfway House, Midrand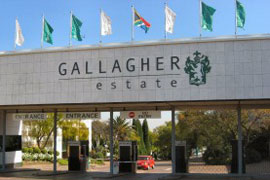 Once you've booked your Halfway House accommodation explore our pages for info on attractions and what to do in Halfway House.

Named Halfway House because of its original position halfway between Johannesburg and Pretoria, Halfway House initially served as a halfway stop between the two major cities, when little else littered the N1 that links them.

Today, Midrand, Pretoria and Johannesburg are literally one large metropolitan area and Halfway House has all but been swallowed by Midrand and other newer suburbs that lay claim to the halfway position on the N1 - Midrand is now one of the busiest industrial and commercial centres in the country. Few can boast the rural setting that was, and still is for some part, Halfway House. Much of Halfway House was set on farm land. Nowadays modern Jo'burg has spread so that the majority of homes here are contemporary and large and the suburb enjoys its fair share of townhouses and secure estates. Still, there lingers the memory of semi-rural highveld; evident in the older parts of Halfway House that offer tranquillity and an easing of the fast pace that is Johannesburg. Nothing beats your access from here to either Midrand or Pretoria, and Gallagher Estate lies just around the corner. Even central Johannesburg is easily accessible from the N1.

There is no shortage of things to do, when staying at Halfway House - halfway you may once have been but today you're in the midst of the city's buzz. Gallagher Estate is home to a number of festivals, exhibitions, music concerts and conferences, whilst Richard Loring's Sound Stage is just around the corner. The Kyalami Race Track and an 18-hole golf course are in nearby Kyalami.
Get the Scoop
Halfway House Reviews
Related Links
Featured Attractions in (or near) Halfway House

Glen Austin Bird Sanctuary
The Bird Sanctuary is home to many birds. These include Crimson Breasted Shrikes, Pied Barbit, Tit Babbler, Black Cuckoo Shrike whilst Crombeck and Bru Bru Shrikes, White and Abdims Storks, Black Headed Herons, Helmeted Guinea Fowl, Rock Pigeon and Black Crows have also been observed.

Kyalami Country Club is just a few minutes drive from South Africa's grand prix motor racing circuit just north of Johannesburg. Kyalami is an eighteen hole golf course situated conveniently between Pretoria and Johannesburg in a superb setting in Kyalami. Kyalami offers its members and visitors a... more information

South African Lipizzaners
The Lipizzaners are situated in the small holdings of Kyalami. Every Sunday they perform a classical dressage show to classical music in which they skip, trot on the spot, side step, high step, and jump off the ground and kick with their back legs at the same time. See them at 10:00 am every Sunday.
Related Links
On Holiday in Halfway House
• Halfway House Accommodation
• Halfway House Hotels
• Midrand Accommodation
• Midrand Hotels
• Midrand Map
• Gauteng Accommodation