Things To Do in Midrand

Nizamiye Turkish Masjid

Religious / Spiritual Johannesburg Midrand

Where? Old Pretoria Road, Midrand, Johannesburg

When? Monday to Sunday from 04h00 to 22h00

How? Call +27 (0)11 024-5857

How much? Free

Overnight? Stay at accommodation in Midrand, in Gauteng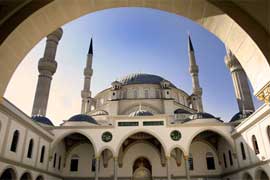 The Nizamiye Turkish Masjid has a dome that rises to 32 meters high and is almost impossible to miss. This stunning building is still a functioning mosque and is available for guided tours. The architecture is astounding with beautiful courtyards and eye-catching glass windows, marble columns, fountains and more, this is no ordinary mosque. On the same premises you will find a school for 850 students, boarding facilities, shops, a clinic and a restaurant, all the necessities for this small community.

This building is definitely worth a visit, it is nothing short of breathtaking. Woman are asked to cover their legs arms and heads within the mosque.
Please Note
Business details can change. All information is published in good faith as supplied by the providers. Please check with the provider that the activity/business is still offered as described above, before making any travel plans.