Gauteng Destinations
Cresta, Randburg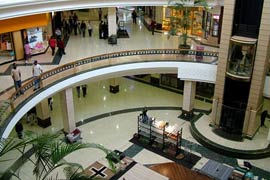 Once you've booked your accommodation in Cresta explore our pages for info on attractions and what to do in Cresta.

One of Randburg's myriad suburbs, Cresta lies in the northern region of Johannesburg, closest neighbour to Darrenwood and Windsor East. But mention Cresta to the average resident and they will assume you are referring to Cresta Centre - the sprawling shopping centre on the border of Northcliff and Cresta.

Cresta Centre is not just large; it is one of the biggest shopping centres in the southern hemisphere, having gone through no fewer than eight extensions and refurbishments to accommodate the demands of an ever-expanding northern Johannesburg. Randburg has slowly taken on a Cinderella mantle as the shopping mecca other than Sandton, and there are at least four similar mega malls in this part of the city: Brightwater Commons is virtually around the corner, NorthGate lies a little further north, and Clear Water Mall further west, along Hendrik Potgieter Drive.

Cresta is ideally situated. The N1, the major tributary around Johannesburg, is easily accessible, and back routes from here to Sandton make cross-city driving relatively easy, depending on the time of day you venture forth. Emmarentia Dam and the Botanical Gardens offer a major green lung to residents. They lie just beyond Linden, behind Cresta Centre and easily reachable.

In the distance above Cresta is another easy escape to a green space - one can walk up Northcliff Hill, although it does tend to be a bit of a ramble as there is no direct route over the hill. Locals enjoy the villages of Melville and Greenside at night and during the day over weekends, as both have an interesting array of restaurants, shops and boutiques.
Get the Scoop
Cresta Reviews
Related Links
Featured Attractions in (or near) Cresta

Brightwater Commons
Formerly known as the Randburg Waterfront, Brightwater Commons is one of Johannesburg's better-known entertainment, restaurant and shopping centres. The Brightwater Commons is designed around the concept of an urban shopping space. Well known for its wide selection of restaurants.

Reputed to be the best dog walk in Johannesburg, Emmarentia Dam lies next to the Botanic Garden in Emmarentia, north Johannesburg. Tranquil lawns in which families can meet and play, walkways peppered with wooden benches placed strategically to afford moments of stillness and reflection ... more information

Set on the western shores of the picturesque Emmarentia Dam, Johannesburg Botanic Garden is one of the city's parks - a green space in the middle of Jo'burgs northern suburbs about 6 kilometres from the city centre - with over 30 000 trees, a large rose garden, the site of over 4 500 varieties, and a ... more information

With two very distinct but different golf courses, Randpark offers golfers of varying ability an unforgettable experience on two of the finest and best manicured courses South Africa has to offer. Host to the 1995 and 2000 SA Opens, the Randpark course is amongst the top championship... more information
Related Links
Things To Do in Cresta

Where: Cresta
How much (per person): Price on request
Plaka serves good old Greek food in a thoroughly modern way, without the dancing or plate throwing. They describe their menu as 'unpretentio ... more information
Related Links
Restaurants in Cresta

Where: Cresta
The Randburg branch of Caffe Rossini is located in the busy suburb of Cresta. The Caffé Rossini concept is based on the contemporary lifestyle of a 19th century Italian gentleman, Gioachino Rossini. A ... more information

Where: Randburg
Just 20 minutes drive from Sandton along CR Swart Drive in the suburb of Sundowner (what used to be 'in the sticks', or as far into the sticks as you can get whilst still in Johannesburg) is Lemon Ros ... more information
Related Links
On Holiday in Cresta
• Cresta Map
• Cresta Accommodation
• Cresta Hotels
• Randburg Accommodation
• Randburg Hotels
• Gauteng Accommodation