Eastern Cape Attractions
Bayworld Museum Complex, Eastern Cape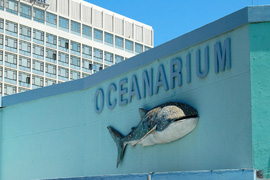 Bayworld Museum Complex, one of Port Elizabeth's major tourist attractions, is situated along Marine Drive on the beachfront at Humewood and comprises the Museum, Oceanarium, Snake Park as well as Number 7 Castle Hill Museum.

The underlying theme of Bayworld is public education, and is aimed at stimulating a greater awareness of the need for conservation of our natural and cultural heritage.



Bayworld Museum:
The Main Museum of Bayworld blends cultural and natural history. Embark on an exciting journey through time and through the fascinating world around us. Marvel at the diversity of museum displays, from prehistoric dinosaurs to ethnic beadwork as well as a variety of historical treasures that will keep you intrigued for hours. For more info click here.

Noteworthy exhibits include the 15m skeleton of the last southern right whale harpooned in Algoa Bay, a life-sized reconstruction of the giant prehistoric dinosaur known as Algoasaurus, a replica of the Dias Cross and a 5m bronze cannon dated 1640 recovered from a Portuguese galleon wrecked near Port Elizabeth.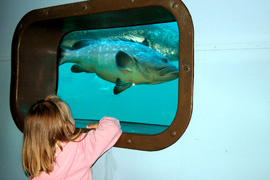 Oceanarium:
The popular seal and penguin presentations take place daily. Exhibits within the Oceanarium include an underwater observation area in the aquarium, a dolphin research centre, various smaller tanks for different species of bony fish, as well as two larger tanks housing sharks and stingrays. For more info
click here
.
Snake Park:
A wide variety of reptiles such as tortoises, snakes and crocodiles can be viewed at the Snake Park, the oldest in Africa. Rare and threatened species including Madagascar ground boas are housed safely in realistically landscaped glass enclosures. Reptile demonstrations take place daily. For more info
click here
.
7 Castle Street Museum:
No 7 Castle Hill was completed in 1830 and is now regarded as one of the oldest surviving Settler cottages in Port Elizabeth. The interior presents a picture of domestic life such as many which was enjoyed by English middle class family in mid-19th Century Port Elizabeth. This picturesque family dwelling located in Castle Hill Road, Central has Yellowwood floors and beams, and a restored slate roof. The dollhouse, lace and kitchen are particularly impressive. For more info
click here
.

destinations / attractions in the eastern cape