Game Reserves in South Africa
Limpopo Game Reserves
Limpopo Game Reserves / With its vast expanses of bushveld wilderness habituated by an abundance of wildlife species, the Limpopo Province is the perfect destination for nature and wildlife enthusiasts. The Limpopo province is predominantly rural with the result that large areas still remain untouched by human development.

Limpopo Game Reserve Map
Click on the game reserve on the map (or use the links below) to view additional information about the Game Reserves and for listings of all Game Lodges listed in the relevant area.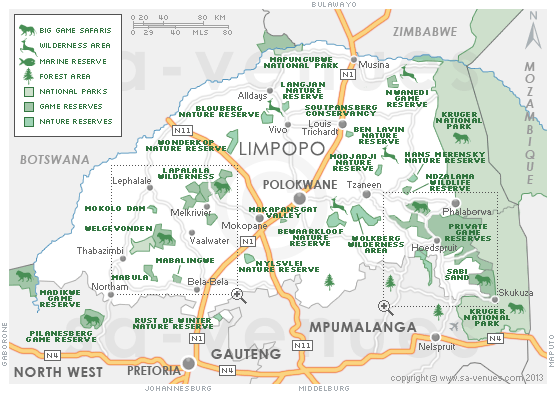 Limpopo Safaris
Experience a unique Limpopo Wildlife Safari or Limpopo Tour / Limpopo offers visitors an wide selection of Game Reserves. Choose a package tour ranging from a single overnight stay to multiple days in a Game Reserve or visit one of the Limpopo Reserves as a day trip. Find day tours at Limpopo Day Tours.