Where? Durban
Sea World A genuine salvaged shipwreck provides the authentic structures that incubate this indoor and outdoor salt-water sea life exhibit which is one of the five largest aquariums in the world. Dolphins ...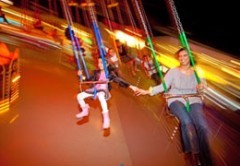 Where? Umhlanga Rocks
Mr Funtubbles Fabulous Family Fun Fair brings a new tradition of family entertainment to South Africa. Drawing on the nostalgia and excitement of yesteryear, the funfairs are located in bright, clean and safe ...