Things To Do in Rosebank

Mingle at Hush Bar & Lounge

Where? 160 Jan Smuts Avenue, Corner 7th Avenue, Rosebank, Sandton, Gauteng

When? Thursday to Saturday from 21h00 to 04h00.

How? Call +27 (0)11 447-0203

How much? Falls into price group R101 to R200 per person. Confirm with the provider.

Overnight? Stay at accommodation in Rosebank, in Johannesburg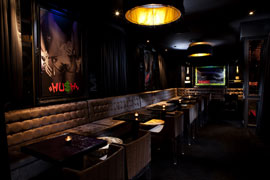 Hush is situated in the one of the most fashionable areas in Johannesburg and is one of the most recognised up-market venues in the city. This bar and lounge has the most exquisite surroundings, offering a mature diverse crowd of all cultures and styles.
For those who are looking for an unquestionable evening of the last word in edgy, glamourous, modern and super classy clubbing then join us at Hush and live out your dreams in our exquisite fantasy universe, where you will not want to leave. We have the finest DJs in all of South Africa, luxury lounges to relax in and visual delights to entertain your eyes and mind.
Please Note
Business details can change. All information is published in good faith as supplied by the providers. Please check with the provider that the activity/business is still offered as described above, before making any travel plans.