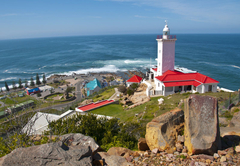 Where? Mossel Bay
Whilst it might not be as obvious today that Mossel Bay is named for the plethora of mussels that used to bedeck the bay, there is a story about the Dutch navigator, Paulus van Caerden, who arrived in the bay ...
Where? Plettenberg Bay
Built in 1950, Cape Seal lighthouse lies within the Robberg Nature and Marine Reserve on the seaward tip of what is known as Cape Seal. It forms the southern arm of Plettenberg Bay, halfway between Mossel Bay ...