Eating Out in Smithfield

The Famous Pig Out

Cafés & Eateries Family Entertainment Xhariep Region

Where? We regret, This restaurant is closed or has been removed.

When? Open seven days a week serving breakfast, lunch and dinner.

How? Call +27 (0)51 683-0498

Overnight? Stay at accommodation in Smithfield, in Free State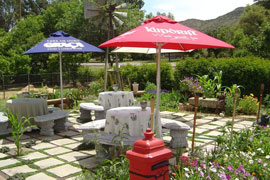 We regret, this restaurant has closed.
The famous Pigout is the definitive home of Fine Country Cuisine. Our dining room is elegant and comforting and the food is a fusion of old school colonial fine dining and modern fresh cooking.
The new movement to "slow food", where there is no mass-produced food, but just the best organic products, is prevalent in our dining room. Each meal is individually prepared with love and care with only the freshest fare from our own organic garden. Come and enjoy a dining experience with "kontrei" food. Our tea garden is world famous for its excellent coffee and the best garden Quiche and sweet options. This is the place to come relax with a drink and a snack or maybe a light meal while the kids enjoy a pony ride or just playing in the garden.
Fully Licensed, Air Conditioning, Smoking Area Available, Parking, Vegetarian Options. Children always welcome!
Please Note
Business details can change. All information is published in good faith as supplied by the providers. Please check with the provider that the activity/business is still offered as described above, before making any travel plans.