Where? Bluewater Bay
You'll find the New Brighton Beach just before Bluewater Bay in Port Elizabeth. If you don't feel like getting your feet wet in the waves make use of the promenade which also has a café and children's play ...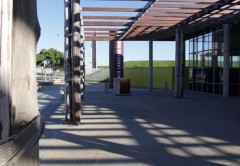 Where? New Brighton
The Red Location Museum is dedicated to the struggle for quality that characterised the apartheid regime in South Africa. However, more than this, it is also about the love and hope that underlined ...