Restaurants in Calitzdorp
Restaurants: Bistros & Pubs
Showing 1 of 1 restaurant in this category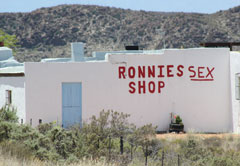 Where? Barrydale
Ronnie painted the name Ronnie's Shop on this cottage next to the R62, planning to open a farm stall to sell fresh produce and fruit. His friends played a prank on him by changing the name to Ronnie's Sex ...
Restaurants: Cafés & Coffee Shops
Showing 1 of 1 restaurant in this category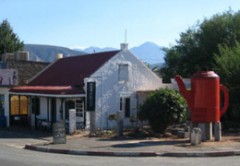 Where? Calitzdorp
The Red Coffee Pot is a small unlicensed restaurant and coffee shop situated in Vortrekker Street in Calitzdorp on the delightful Route 62, longest Wine Route in the world. The Red Coffee Pot serves breakfast ...
Filter restaurants
in Calitzdorp, Western Cape
©Unauthorised use of the
photos is strictly prohibited.