Restaurants in Kenhardt
Restaurants: Cafés & Coffee Shops
Showing 1 of 1 restaurant in this category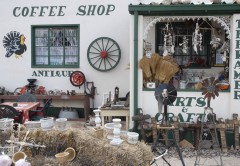 Where? Kenhardt
Ouma Miemie's Farm Stall is a treasure of a find in the Northern Cape town of Kenhardt. A wide selection of marmalades, jams, jellies and chutneys fill the shelves and tables are stacked high with dried and ...
Filter restaurants
in Kenhardt, Northern Cape
©Unauthorised use of the
photos is strictly prohibited.