Restaurants in Kathu
Restaurants: Bistros & Pubs
Showing 1 of 1 restaurant in this category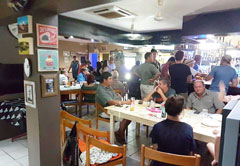 Where? Kathu
In the heart of the Northern Cape Province, where time slows down and the daily pace is restful, there is a quirky little bar and restaurant called Doringdraad. This spot combines old world charm and design ...
Filter restaurants
in Kathu, Northern Cape
©Unauthorised use of the
photos is strictly prohibited.