Restaurants in Hondeklip Bay
Restaurants: Casual Dining
Showing 1 of 1 restaurant in this category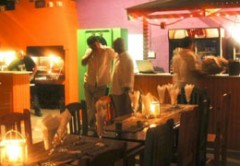 Where? Hondeklip Bay
Die Rooi Spinnekop gets its name from the colloquial nickname for crayfish, and being a restaurant serving crayfish on the Cape West Coast, the name fits perfectly. With delicious food, wine, charm and warm ...
Filter restaurants
in Hondeklip Bay, Northern Cape
©Unauthorised use of the
photos is strictly prohibited.