Restaurants in Drummond
Restaurants: Bistros & Pubs
Showing 1 of 1 restaurant in this category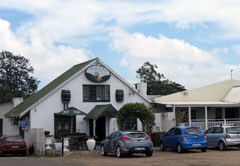 Where? Drummond
The Drum and Bell Country Pub and Restaurant may be a small eatery, but its charm, charisma and idyllic positioning certainly makes it one to be remembered. Overlooking the breathtaking Valley of 1000 Hills in ...
Filter restaurants
in Drummond, Durban
©Unauthorised use of the
photos is strictly prohibited.