2 Casual Dining Restaurants in Morningside
Showing 1 to 2 of 2 results
Where? Sandton
Piza e Vino has proven itself to be a 'keeper' in the hearts of local residents, thanks to a bustling atmosphere, an Italian menu and some of the most creative pizzas we've ever seen! The outdoor deck includes ...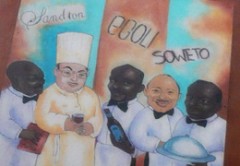 Where? Morningside, Sandton
With a string of highly acclaimed restaurants behind his name - Les Marquis, The Fiddler, Dentons, Herbert Baker, renowned restaurateur Alan Gerson has got what it takes to ensure that the White Boy Shebeen ...