Restaurants in Lonehill
Restaurants: Bistros & Pubs
Showing 1 of 1 restaurant in this category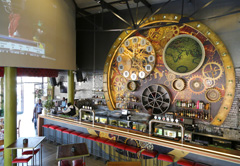 Where? Lonehill
Gastropubs have long been the places to go in Britain, but this approach has hit South Africa with a bang, and is undergoing a constant evolution. This concept is centred on pubs that specialise in craft ...
Filter restaurants
in Lonehill, Gauteng
©Unauthorised use of the
photos is strictly prohibited.