Restaurants in Riversdale
Restaurants: Casual Dining
Showing 1 of 1 restaurant in this category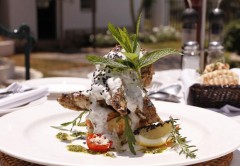 Where? Riversdale
De Wingerdt Restaurant can be found in the idyllic vineyard setting of the De Doornkraal Wine Estate, which stretches to the Vette River bordering the town of Riversdale. Steeped in history, De Doornkraal is ...
Restaurants: Cafés & Coffee Shops
Showing 1 of 1 restaurant in this category
Where? Riversdale
This is one very good reason to head off the N2 into Riversdale, particularly on a Saturday morning when Die Ou Tronk hosts a weekly farmers' market. From outside the building looks every bit the jail, ...
Filter restaurants
in Riversdale, Garden Route
©Unauthorised use of the
photos is strictly prohibited.