North West Province Child / Family Friendly Accommodation
Child friendly hotels and accommodation in North West Province - including family hotels, guest houses, bed & breakfasts, holiday apartments, suites, cottages and holiday homes - catering for families travelling with children.
The establishments below accept children of all ages (from babies and toddlers to teenagers). If none of these establishments take your fancy, please adjust the filter to show results for the specific age group(s) required.
Kids in the North West Province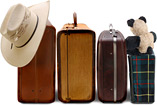 The North West has two enviable game reserves - Madikwe right up against the Botswana border, and Pilanesberg almost adjacent to Sun City. These are ideal for families, not least because they are malaria free and lie within easy travelling distance of Johannesburg and Pretoria.
This beautiful part of the world, known also as the 'platinum province' due the wealth of this underground metal, serves as a place to escape for Gauteng families in search of bushveld, tranquillity, sun and the outdoors.
With the Kalahari Desert infringing on its west flank and Botswana to the north, the country's fourth smallest province is sometimes referred to as the Texas of South Africa because of some of the largest cattle herds in the world at Stellaland near Vryburg. North West is dominated by flat, and to the untrained eye, rather unexciting terrain scattered by trees and grassland - the Magaliesberg mountain range providing a welcome relief on its north-eastern border.
The Magaliesberg, with its beautiful mountains, hills, kloofs, waterfalls and forests provides a wonderful escape, and there are a number of family-friendly venues, such as Mountain Sanctuary Park that make camping an exciting escape to nature.
The Valley of the Waves, an inland seaside adventure at Sun City, is just one reason to visit this extravagant entertainment complex. There's a huge man-made pool and beach, water chutes and waterslides to provide hours of water splashing fun for kids of all ages! Hartbeespoort Dam is a great place for water sports and picnics, the De Wildt Cheetah Farm, one of the most renowned centres for breeding cheetahs, is a wonderful educational outing, and, Vredefort Dome, on the way to Potchefstroom, is the site of an ancient meteorite, said to have hit the earth aeons ago.