Gauteng Child / Family Friendly Accommodation
Child friendly hotels and accommodation in Gauteng - including family hotels, guest houses, bed & breakfasts, holiday apartments, suites, cottages and holiday homes - catering for families travelling with children.
The establishments below accept children of all ages (from babies and toddlers to teenagers). If none of these establishments take your fancy, please adjust the filter to show results for the specific age group(s) required.
Kids in Gauteng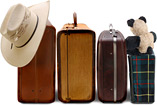 Jo'burg or "Jozi" has a number of fun and interesting activities for children: The Johannesburg Zoo in Parkview, with a farmyard section specially designed for under-sixes; feeding ducks in the city's green parks like Emmarentia, Zoo Lake and Gillooly's Farm; Gold Reef City's theme park and rides that include an Earthquake Tunnel and a Tower of Terror - there is a funfair for the under 10s; or stargazing at the Johannesburg Planetarium.
The smallest yet most densely populated province, known simply as 'place of gold' because of the discovery of a gold-bearing reef in the late 1880s that was to bring fame and fortune to many, Gauteng offers one of the best climates in the country - its crisp, clear and wind-free winter days the envy of the rest of the country, and its summer thunderstorms a kaleidoscopic relief to the heat of season. Gauteng indisputably revolves around its capital - Johannesburg. A concrete jungle it might be but it is also regarded as one of the greenest cities in Africa - a veritable urban forest with around 10 million trees and a number of green spaces, the most popular of which is a real family-friendly gem - the Walter Sisulu Botanical Gardens in the north-west of the city.
The Austin Roberts Bird Sanctuary and Chamberlain Bird Sanctuary, both in Pretoria, are wonderful family day outings, as is Sammy Marks Museum - a beautiful Victorian mansion just outside Pretoria - the gardens alone are worth a jaunt out this way and include a maze. Tables under the trees are a wonderful way to enjoy tea.
Leisure Lakes in Midrand is a fantastic place to learn to waterski and wakeboard for the older kids, or if that outdoor activity doesn't grab you then surely riding a hot air balloon or paragliding in the Magaliesberg will?