Free State Child / Family Friendly Accommodation
Child friendly hotels and accommodation in Free State - including family hotels, guest houses, bed & breakfasts, holiday apartments, suites, cottages and holiday homes - catering for families travelling with children.
The establishments below accept children of all ages (from babies and toddlers to teenagers). If none of these establishments take your fancy, please adjust the filter to show results for the specific age group(s) required.
Kids in Free State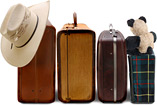 The landlocked Free State province seems to lie in the very heart of the country forming a plateau between the Vaal and Orange Rivers. The Free State has a reserved and largely undiscovered beauty all its own, owed in no small part to the number of days of sunshine, the flat wide grassy plains, imposing mountains that dominate the horizon, and the little dorps or towns.
Aside from the major cities in the Free State of Bloemfontein and Welkom, it is the little towns like Clarens, Fouriesburg, Memel, Parys and Villiers that are the real showstoppers, and together with locations like the Golden Gate National Park and Willem Pretorius Game Reserve, make a visit to the Free State with kids a real escape from it all. Bloemfontein or Bloemies, as it fondly known by its residents, is a place of little stress and less haste and one of the major cities in the country that feels more like a little town and less like a city than any other.
For families this is a bonus and visits to the zoo or Naval Hill and the many arts and crafts markets, like Art in the Park at Kings Park on the first Saturday of every month, provide wonderful ways to while away time that seems to stand still. The Oliewenhuis Art Museum has a great tea garden and a lot of things for children to do when they're not running around the gardens. You can also pre-pack a picnic for beneath the trees.
The Free State is rife with festivals - from the Philippolis Witblits (Afrikaans for 'white lightning', meaning moonshine) Festival in April with boeresports for children and a lot of food and drink, to the Ficksburg Cherry Festival in November - a treat for children of all ages. And the range of hills near Parys forms part of the Vredefort Dome, the largest visible meteor-impact site in the world, one of seven Unesco World heritage sites in the country and well worth a visit.