North West Province Things To Do
Van Gaalen Cheese Factory (Hartbeespoort)
Categories: Cafés & Eateries / Miscellaneous
Price group: On Request (see other things to do in this price group)
Available in the following region(s): Hartbeespoort Dam
Address: Van Gaalen Kaasmakerij, Skeerpoort, Hartbeespoort Dam.
Telephone: +27 (0)12 207-1289
Opening hours: Daily from 08h00 to 17h00. Closed on Tuesdays.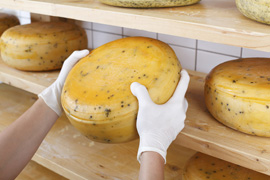 If you live in Jozi, why not head to the Magaliesberg for the day (or the weekend) and visit Van Gaalen Kaasmakerij.

The owner of the farm left the Netherlands 14 years ago and after not liking the cheeses on offer in South Africa, decided to make her own - And Thank goodness she did!

One is now able to take a tour of the factory to learn about the cheese making process and there is a restaurant on the farm so you can enjoy something cheesy in a beautiful setting. Picnic hampers are also available but must be booked a day in advance.
Why Not Overnight?
Find Accommodation in Hartbeespoort
Cocomo - The place you want to go. An elite, upmarket and contemporary styled guesthouse and conference centre offering high quality accommodation ...
Named after the quant neighborhood that it stems from, Kosmos Manor on the banks of the Hartebeespoort Dam consists of 6 beautifully appointed rooms ...
Related Pages
Travelling to Hartbeespoort
• Hartbeespoort Dam
• Things to do in Hartbeespoort Dam
• Hartbeespoort Dam Accommodation
• Hartbeespoort Dam Hotels