North West Province Things To Do
The Black Pearl Restaurant (Brits)
Categories: Cafés & Eateries / Restaurants: Bistros & Pubs
Price group: On Request (see other things to do in this price group)
Available in the following region(s): Bojanala Region
Address: Southern Palace Crocodile Adventures, Stand 28 & 29 Kameeldrift, Brits
Telephone: +27 (0)72 454-4669
To see more restaurants:
South Africa Restaurants / North West Province Restaurants / Brits Restaurants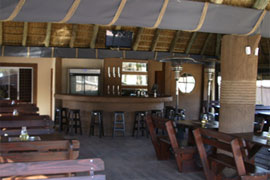 "The Black Pearl" originally a Fictional Pirate ship in the "Pirates of the Caribbean" film series. The Black Pearl Restaurant symbolizes this Pirate ship, which can seat up to 120 persons at one time.

Come and enjoy the extensive range of cuisine available on this 30m long ship. The Black Pearl offers culinary challenges, from Snapping Croc Burgers to Croc Steaks and Croc Kebabs.

For those who prefer to play it altogether safe, you will be pleased to know that we also have a familiar Global Menu- anything from Hamburgers, to Spaghetti Bolognaise, to Toasted Sandwiches. Toasted Sandwiches for the not so hungry and last but not least- Decadent Desserts to die for- to ease the craving sweet tooth. Our Fully Licensed Bar is equipped with a wide range of drinks, ranging from Wines & Shooters to Ciders, Beers and Spirits.

Should you not find anything on our menu to your taste preferences, you are most welcome to ask our well trained, expert Chefs, who will "Whip up a storm" especially, for you.
Why Not Overnight?
Find Accommodation in Brits
Situated in the quaint town of Brits in the North West Province of South Africa, Maroela Guesthouse offers ultimate comfort and relaxation. Our ...
Situated just outside Hartebeespoort Dam, next to the R513, is where you will find the venue that will make your dream wedding a reality. Camelotte ...
Related Pages
Travelling to Brits
• Brits Attractions
• Brits Guest Houses
• North West Province Accommodation
• South Africa Accommodation