Things To Do in Pilanesberg

Archery

Family Entertainment Sports & Leisure Bojanala Region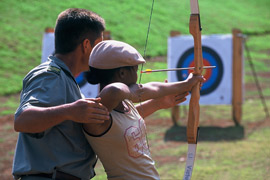 An ancient sport with modern equipment, ranging from recurve bow to crossbow and modern compound bow. Will you face the challenge? Join us to learn the technique of this challenging art form.
Experience the ancient art of archery with the help of modern day equipment. Competent instructors will help you master the technique of shooting a re-curve bow, a powerful crossbow and if you are up to a challenge, the modern compound bow!