Gauteng Things To Do
Dine at Balata Restaurant (Randpark Ridge)
Categories: Cafés & Eateries / Restaurants: Fine Dining
Price group: On Request (see other things to do in this price group)
Available in the following region(s): Randburg
Address: The Fairway Hotel & Spa, Setperk Street, Randpark, Randburg, Gauteng
Telephone: +27 (0)11 478-8000
Opening hours: Reservations essential.
To see more restaurants:
South Africa Restaurants / Gauteng Restaurants / Randpark Ridge Restaurants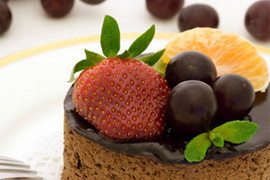 Seared Line fish fillet with Aubergine caviar. Braised pork belly with candied apples. Grilled rack of veal with Parmesan Potato Puree and garlic chips. Sounds mouthwatering? It certainly is! And if you haven't tried the Fairway Bunny Chow for dessert, you are certainly in for a pleasant surprise!

Offering a variety of seating arrangements, vibrant décor colours and modern fireplaces, Balata Restaurant at The Fairway Hotel is famous for its outstanding breakfasts. Light business lunches are equally popular, but Balata will certainly become known for its exquisite fine dining under the leadership of Chef Warren Forster. Using the freshest produce available, all meals are served with great care and attention to detail.
Why Not Overnight?
Find Accommodation in Randpark Ridge
Situated on the Randpark Golf Course, 2km from Cresta Shopping Centre in Johannesburg, this brand new, slick city hotel provides the ultimate ...
Related Pages
Travelling to Randpark Ridge
• Randpark Ridge Attractions
• Randpark Ridge Hotels
• Randburg Hotels
• Gauteng Hotels
• South Africa Hotels