Eastern Cape Golf Courses
Bushman Sands Golf Course, Alicedale
Designed by
Gary Player
Type
TBA
Holes
18
Par
74
Fairway Grass
Kikuyu
Greens Grass
Kikuyu
Length
TBA (Ladies: TBA)
Telephone
+27 (0)42 231-8000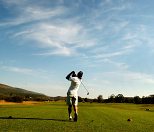 Bushman Sands Golf Course / This 18-hole championship Bushman Sands Golf Course was designed by South African golfing legend, Gary Player. The course follows the banks of the Bushmans and New Years Rivers, resembling the game's earliest "links" courses in Scotland with undulating fairways and pot bunkers.

Unique features at the Bushman Sands Golf Course include playing the first stroke over the railway line, a double green (1400 sq.m) shared by the 2nd and 5th holes, crossing the Bushman's River and New Year's River on various holes and finishing with a final drive over a small cemetery in the centre of the fairway.

Signature Hole
The dramatic 14th hole will probably be the feature hole on this course. The hole plays across a valley and stream to a green that is wide but not very deep and is positioned close to the railway line. This hole will prove a testing challenge for most golfers.

Features of the club house
Bunker's dining room, halfway house, Golf Pro-shop, Bar overlooking the 18th green, gents and ladies locker rooms each with showers and a steam room, scenic swimming pool.

Stay overnight
Find accommodation in Alicedale (by location map) or see Alicedale Accommodation (with preview images and description) or consider staying at Alicedale Hotels (ranging from 3-5 star).

Also see Frontier Country Accommodation and Frontier Country Hotels for overnight options in surrounding towns or see Eastern Cape Accommodation and Eastern Cape Hotels for a place to stay in other towns and cities in the Eastern Cape.

Did you know?
A challenging, yet friendly course, to be enjoyed by all golfers. The local community has benefitted immensley from the development of the golf course with many locals being trained as caddies.
golf courses in the eastern cape