The Garden Route
Garden Route Travel with Kids
With a little imagination, and help from those establishments that cater specially for children, the Garden Route is a wonderful escape for families with children of all ages, but particularly for those children who can join you on walks through magical forests where the elusive knysna loerie serves as part of an entertaining diversion, and it isn't difficult to imagine faerie folk and the last few remaining Cape bush elephant, only one female of which remains. [cont.]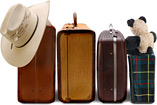 Sandwiched between the Outeniqua Mountains and the Indian Ocean lies a picturesque stretch of coastline that begins about 280 kilometres outside of Cape Town and ends at the Tsitsikamma Forest and Storms River, known because of its magnificent scenery as the Garden Route. This incredibly beautiful and popular coastal corridor draws visitors as a flame entices moths - its indigenous forests, freshwater lakes, wetlands, unknown coves and desolate sandy beaches beckoning visitors of all ages to experience its splendour.
Towns like Witsand, known as 'the nursery' of the popular whale route due to the high number of whales that birth here, and Knysna with its mountain biking paths, Elephant Park just outside the town on the N2, ferry boat rides on the Lagoon, the annual oyster festival, the Outeniqua choo-tjoe between Knysna and George - a great outing for children on a steam train - and the Wilderness with its lagoon and long stretches of golden sand, all serve as great entertainment for children.
Old Nick Village in Plettenberg Bay is a lot more than a shopping centre and a great place to while away the time with children. It is housed in the original 19th century trading store and offers a children's creative centre, a wonderful sculpture jungle gym and gardens for children to run free; don't forget the beaches here either, or Monkeyland - a sanctuary where monkeys are free to move about the forest and a delight for children.
And the little town of Swellendam, although not traditionally on the Garden Route, can be worked into your itinerary. It is home to Sulina's Faerie Sanctuary - a little weird to some, but so much fun - a land of faeries, gnomes, wizards, unicorns, elves, butterflies and more. [hide]
Family / Child Friendly Accommodation (all ages)
Find child-friendly establishments catering for families travelling with kids in the Garden Route. These child friendly establishments include family hotels, guest houses, bed & breakfasts, holiday apartments, suites, cottages and holiday homes that welcome children of ALL ages (from newborns to teenagers). Please see the Garden Route Accommodation listing pages for other establishments that accept children from 6, 12 or 16 years upwards (there are plenty to choose from!)
To find child friendly holiday accommodation in the Garden Route, select a town / suburb in the drop down menu or from the detailed lists below:
Deal direct and save - your enquiries go directly to the establishments of your choice - no commissions on bookings! Please contact the establishments using details provided.
Garden Route Child Friendly
Suburb / Town List by Regions
accommodation by special category