Gauteng Game Reserves
Marievale Bird Sanctuary, Gauteng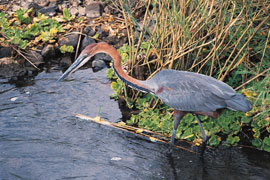 A large floodplain, the Marievale Bird Sanctuary, lies north east of Suikerbosrand Nature Reserve just outside Nigel. It forms the southern half of Blesbokspruit RAMSAR site (an international treaty for the conservation and sustainable use of wetlands), and is one of several very important bird areas in South Africa.

Marievale is also a bona fide sanctuary of about 10 square kilometres that attracts and supports up to 65 different waterbird species and over 3500 birds, especially during the summer months when migratory birds join the already large numbers of goliath heron, great white heron, black egret, fulvous duck and South Africa shelduck. One can also spot the reed cormorant, yellowbilled duck, African spoonbill and Ethiopian snipe, to name but a few examples.

For obvious reasons the wetland and the surrounding highveld grasslands are a prime birding spot in Gauteng. Marievale Bird Sanctuary is made up of two lakes and a large wetland, known locally as a 'vlei'. Unfortunately the flow of the river and the floodplains have both been adversely affected by the surrounding gold mines that resulted in the development of embankments, roads, railways, pipe lines and power lines across the low-lying parts of the Blesbokspruit.

As a result the beautiful palustrine wetland became little more than a series of 'dams'. Whilst this has devastated the original wetland, waterbirds use this as a prime space in which to feed and breed. Even if you are not a birder the wide spaces and general chatter of birds will always lift the spirit. There is a picnic site, toilets and large pool at which a bird hide allows some prime viewing.

Did you know?
Marievale Bird Sanctuary is open daily. Opening times are 05h30 to 19h30 from October to March and 06h30 to 18h00 from April to September. There is no entrance fee. The contact telephone number is +27 (0)11 364-1101.