Events in Vanderbijlpark

Vaal River Meander Wine Route
Please Note
This event has already taken place. All details published in good faith, as supplied by the organisers. Please check our current and upcoming events list for events to attend.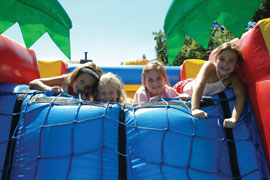 More than twenty different Venues on and around the banks of the Vaal River have been carefully selected to showcase the wines from over 50 premier South African Wine Estates. The venues on the Vaal River Meander Wine Route are diverse, fun and interesting and provide for all different tastes and entertainment.
You might fancy sipping wine on the patio of a 5-star hotel overlooking the Vaal River or you might prefer sitting in front of a roaring fireplace in a cosy River Pub. Or what about a wine tasting aboard one of the Cruisers? You have the option of enjoying the Wine Route by cruiser, car, bus or by limo. A great way to break the winter blues for your family, with a relaxing meander on and around the Vaal River, where you can enjoy well-priced tastings of excellent wines at a wide range of different venues.
Besides the fun of experiencing excellent Wine Estates at the diverse selection of venues, there is lots of local entertainment for the whole family that can be incorporated into the day. This includes game drives, a river cruise or dining on a cruiser, a game of golf, visiting the newest zoo in South Africa, fun at a warm indoor water world, ten pin bowling, children's entertainment, craft shopping, or maybe trying your hand at lady luck at Emerald Casino. There is so much to do and perhaps make a weekend of it to fit it all in!
When: Every Saturday and Sunday from midday till 18h00
Contact: Stonehaven on Vaal on +27(0)16 982-2951