Gauteng Events
Spar Ladies 10km and 5km Challenge (Centurion)
When: Dates to be confirmed
We regret, the dates for this event have not yet been confirmed with us. Our apologies for any inconvenience. Event organiser please contact us with the date for this event.
Where: Centurion
Categories: Outdoor Events / Sporting Events
Stay overnight: See accommodation in Centurion, in Gauteng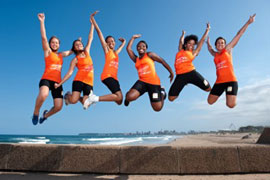 My most beautiful road race...

The annual my SPAR Women's 5 / 10km challenge in association with Jacaranda 94.2, takes place this year with approximately 25 000 participants, with the race starting in West Street at 14h00.

Please also note that a part of South Street will also be closed for traffic from 14h00 and that the Tshwane Metro Police will be assisting us to ensure that traffic, although impaired, will still flow as smoothly possible.

Contact: Daan du Toit +27 (0)82 572-4169 or
Retha Ingenbleek on +27 (0)11 203-5399 or +27 (0)82 901-0065 fore more information

Please Note: Dates for this event to be confirmed.
Stay a Day or Two?
Find Accommodation in Centurion
Somerslus Guest House is situated in the security village of Irene. We are a four star establishment, graded by the Tourism Grading Council of South ...
Sorex Estate is a dramatic, fairytale castle situated on a 6 hectare estate in Centurion within an area of outstanding natural beauty. Kings Hall, ...
Related Pages
Centurion Tourism
• Centurion Hotels
• Northern Gauteng Accommodation
• Gauteng Accommodation

Submit an Event in Gauteng
- know of an upcoming event?
Organisers are welcome to submit their event info (there is no cost to list your event).