Gauteng Events
Fine Brandy Fusion (Sandton)
When: Wednesday, 26 June 2013 to Friday, 28 June 2013
Where: Sandton
Categories: Exhibitions & Conferences / Food & Wine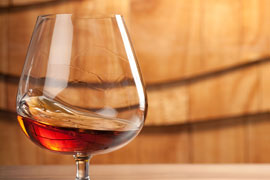 Share the spirit at Fine Brandy Fusion, South Africa's top trend-creating drinks event.

The vibrant Fine Brandy Fusion (previously the Fine Brandy Festival) hints at the array of delightful fusions used to create our unique brandies as well as the fusions of cultures and styles it celebrates.

Part social happening, part learning experience, this keystone event reflects brandy's refined and its fun side. This exciting format will see high-end lifestyle brands, music and brandy-loving food fuse with famous brandy houses and artisanal estate brandies.

This year's Fine Brandy Fusion highlights the incredible run of accolades earned by local brandies at the International Wine & Spirits Competition (IWSC) over the past three decades. Festival guests can get confirmation why no fewer than 13 local brandies have won the Worldwide Best Brandy trophy, including the past five years in succession.

Brandy has also found its mojo in the modern mixing of taste-shaping cocktails recognising brandy's extraordinary versatility. Explore these trend-forward concoctions at the Fusion Bar and discover what fun can be had with South African brandy.

The overwhelming success of the tutored tasting and master classes initiated last year sees the further expansion of the programme, under the auspices of Dave Hughes, a master distiller and international wine and spirits judge.

Fine Brandy Fusion supports moderate and responsible enjoyment of brandy. Corporate Cab services are available.

Fine Brandy Fusion details
Venue: Sandton Convention Centre, Johannesburg
Times: 17h00 - 21h00 (no entry after 20h30)
Tickets are available through Computicket or at the door.
Note: No visitors under 18 years.
Stay a Day or Two?
Find Accommodation in Sandton
Falstaff Hotel is an intimate 41 room hotel located in Morningside, Sandton - Johannesburg's main business and shopping centre. In addition to ...
A secure refuge away from home, located in a safe 24-hour patrolled estate, Chez Paris offers all the comforts of home in a harmonious country ...
Related Pages
Sandton Tourism
• Sandton Attractions
• Sandton Hotels
• Sandton Accommodation
• Things to do Sandton
• Gauteng Accommodation

Submit an Event in Gauteng
- know of an upcoming event?
Organisers are welcome to submit their event info (there is no cost to list your event).