Gauteng Events
Expo4Brides (Pretoria)
When: Dates to be confirmed
We regret, the dates for this event have not yet been confirmed with us. Our apologies for any inconvenience. Event organiser please contact us with the date for this event.
Where: Pretoria
Categories: Wedding Expos
Stay overnight: See accommodation in Pretoria, in Gauteng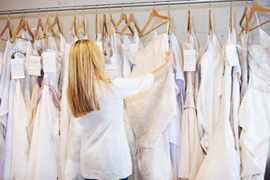 We invite all brides-to-be to drop in and see what to do to arrange a dream wedding. More than 120 specialists in the bridal business will be exhibiting their products and services. There will be photographers, jewellers, dresses, venues, flowers, candles, music, co-ordinators, and much more.

There will also be an exciting bridal competition with stunning prizes. Entry forms will be available at the entrance. No bride-to-be should miss this! (Ample safe parking, good security).

Don't miss the fashion shows, showcasing the top range designer wedding dresses, grooms-wear, bridesmaid and mother of the bride or groom outfits.

We hope that this exhibition will bring an exciting and inspiring element to your wedding planning. We look forward in guiding you to start planning the most important day of your life!

We are confident that you need not have to look beyond what we will offer you, as we will have the very best selection of specialists in the wedding industry at the Expo4Brides!

Contact Fashion show and competition - Anne on +27 (0)82 536-6323 or Exhibitions and general enquiries on +27 (0)12 365-2205 / 6 / 7 for more information

Venue
Heartfelt Arena

Please Note: Dates for this event to be confirmed.
Stay a Day or Two?
Find Accommodation in Pretoria
Studios at Leeuwenhof have an air of charm and sophistication. The studios are a refuge from the cares of the world where guests are assured of ...
Classic curios and trendy furniture complement the fresh, light contemporary designs at The Studios at Oukraal. The studios are all equipped with ...
Related Pages
Pretoria Tourism
• Gauteng Wedding Planners
• Gauteng Wedding Photographers
• Gauteng Wedding Venues
• Pretoria Wedding Venues

Submit an Event in Gauteng
- know of an upcoming event?
Organisers are welcome to submit their event info (there is no cost to list your event).