Eastern Cape Events
Hobbit 100km Trail Run (Hogsback)
When: Friday, 11 October 2013
Where: Hogsback
Categories: Outdoor Events / Sporting Events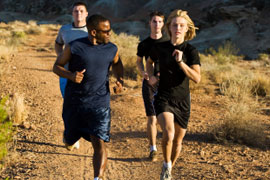 The Hobbit 100km trail run, also known as the Big Bafer (Border Amateur Fun Eco Run) starts at Maden Dam, 25k from King William's Town and follows the hiking trail across the Amatola Mountains to an overnight stop at Cata in the shadow of Geju peak.

The second day continues along the trail and ends at Hobbiton on Hogsback. The trail passes through dense indigenous forest, over mountain grassland and up and down some serious hills, offering trail runners some very technical and also fast sections of trail. There are many streams along the way for runners to collect water. Food and emergency equipment must be carried by the runners. There are no seconding stations and the route is a marked hiking trail but requires a small amount of navigation. Runners are fed at half way (Cata) and at the finish. Runners need to be fit and self sufficient on the route as this is a tough trail run.

Contact: Tatum Prins on +27 (0)83 449-0760 for more information.
Stay a Day or Two?
Find Accommodation in Hogsback
At "The Edge" in the village of Hogsback, we have self-catering cottages and B&B en-suite garden rooms, in a fifteen acre garden. From the edge of ...
Bubuhle Self-Catering Cottages in Hogsback is a quiet romantic retreat situated high in the mists of the Amatola Mountains in the Eastern Cape. ...
Related Pages
Hogsback Tourism
• Hogsback Accommodation
• Hogsback Attractions
• Things to Do in Hogsback
• Eastern Cape Accommodation
• Eastern Cape Hotels
• South Africa Accommodation