Cape Town & Western Cape Tourist Attractions
Mzoli's Place, Cape Town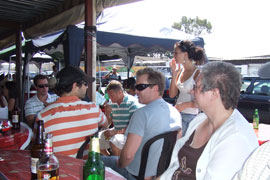 Just off Klipfontein Road in Guguletu, Cape Town, is Mzoli's restaurant - a gem of a place known either as Mzoli's Place, Mzoli's Meat, Mzoli's Butchery or even Kwa-Mzoli.

Despite the confusion over its name, Mzoli's is principally a popular day and night spot that happens to be a butchery, but it is also a place to hang-out in the township on the outskirts of Cape Town, with a bit of a 'reputation' amongst locals for general drunkenness and disorderly behaviour.

Despite the merry making and general hubbub that is Mzoli's Place, it is extremely popular. Celebs hang out here as do out-of-towners and international visitors, who wouldn't miss a chance to visit the place when in Cape Town.

People dress up to attend the bustling butchery, which is also a music venue and something of a fashion extravaganza – the girls all look beautiful and sport a variety of hair styles, and men sport fancy shoes and tight jeans - where you can bring your own alcohol, and people do, or buy it in a nearby liquor store.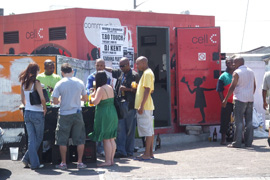 Mzoli's is about meat. The famous meat house sells meat, which you can then braai on no fewer than eight fires. Alongside the meat house is an open-air restaurant where there is usually a live band.
By late afternoon around 250 people swarm in here and the restaurant is a good place to sit and watch the happenings.
Mzoli's was opened in 2003 by Mzoli Ngcawuzele, who got a start-up fund from the Development Bank of South Africa as part of their support of black-owned businesses. From selling meat informally from a garage, Mzoli's, by 2006, had become one of the most popular hangouts in Cape Town. For directions and additional info see "
Feast & Party at Mzoli's Place
".
Mzoli's Place
Accommodation nearby
Don't drink and drive! For highly recommended accommodation in walking distance of Mzoli's Place see Liziwe's Guest House. Almost an attraction in its own right a stay at Liziwe's will extend the South African experience. Exceptionally warm hospitality and an interesting story this is a must for both locals and tourists alike! Also see Gugulethu Accommodation and Cape Town Accommodation for other options.
Related Links
Attractions / Activities nearby

Liziwe Ngcokoto is the owner of Liziwe's Guest House. Before the establishment of the house she bought the plot, lived in a shack on the plot for five years in Gugulethu and then decided to build a house. Together with her husband, they worked towards building their home, one brick at a time ... more information

Built to commemorate the death of seven young black activists from the Cape township Gugulethu (meaning our pride) on 3 March 1986, the Gugulethu Seven Memorial consists of seven solid and powerful granite statue-like constructions, sculpted by the South African artists Donovan Ward and ... more information