Northern Cape Destinations
Kimberley, Diamond Fields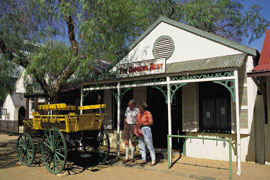 Once you've booked your Kimberley accommodation explore our pages for info on attractions and what to do in Kimberley.

Say the name Kimberley, and nine times out of ten the phrase evoked by the name will be 'big hole'. And indeed, Kimberley, the capital of the Northern Cape that is a perfect detour on the N12, just off the N1, that functions as an alternative route between Cape Town and Johannesburg, is 'the' place for diamond mining. It not only has a history immersed in diamonds but the Big Hole - a huge circular pit right in the middle of town - is a huge crater dug almost entirely with picks and shovels in an effort to reach the stones.

Kimberley's Big Hole, measuring over a kilometre deep with a surface area of 17 hectares (although it isn't the biggest hand-dug hole; the Jagersfontein Mine takes the credit for that) formed part of the diamond rush of the 1870s where men, with little more than man-made tools, managed to remove three tons of diamonds and 22,5 million tons of earth in the process. Today the hole is not as deep. Not only was it used as a receptacle in which to throw debris after it was abandoned, but ground water seeps into the hole leaving only 175 metres of the 215 metre depth visible.

The Big Hole today continues to draw attention and has been converted into an open air museum with a rather daring lookout point directly over the hole. But Kimberley isn't just about its hole, although the guided underground tours of De Beers diamond mine are always exciting. Take a walk through the historical city centre and visit the museums, monuments and art galleries that grace some of the old Victorian homes. And there's a Kimberley ghost trail that reveals all the haunted corners of the city.

History of Kimberley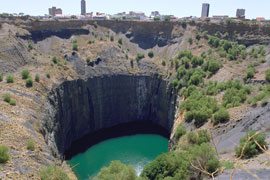 During the world's greatest diamond rush, hordes of prospectors converged on the region, scouring the river banks and sifting soil in a frenetic quest for wealth. At times, there were as many as 30 000 diggers labouring all day and far into the night. Although the name Kimberley evokes images of glamour and romance, the diamond heyday was an era of blood, sweat and tears, high stakes and ruthless power struggles. Some struck it rich; others found only despair. Many emerged from obscurity to achieve fame, and in some cases, notoriety. Against an unlikely backdrop of heat, dust, flies and a jumble of tents and shacks, spacious homes began to rise from the veld.
By the turn of the century, Kimberley had become the diamond capital of the world, and South Africa was well on the way to establishing herself as the most highly industrialised country on the continent. Kimberley's diamond millionaires were largely responsible for financing the Witwatersrand goldfields. Today, Kimberley is a modern city with broad, tree-lined streets, attractive parks and gardens, comfortable hotels and busy shopping centres. But the extraordinary saga of its past, an aura of adventure and drama, seems ever-present. It's easy to conjure up a picture of the diggers, loafers, gamblers and "ladies" of ill repute who once inhabited the dusty shanty town.
Get the Scoop
Kimberley Reviews
Visitorials: We Love South Africa
Kimberley Visitorial

Related Links
Featured Attractions in (or near) Kimberley

Diggers' Memorial
The Diggers Memorial, a fountain and statue in the form of a diamond sieve held aloft by 5 life-size diggers, was erected in honour of diggers past and present. It is located in the Ernest Oppenheimer Gardens, which are in turn a memorial to the late Sir Ernest Oppenheimer, a mining magnate and the first mayor of Kimberley.

With its famous 'Big Hole' where adventurous prospectors dug for diamonds, the town of Kimberley is steeped in history - and so too is the Kimberley Golf Club, which was established way back in 1890. Many famous names have played at the club. 1890 was the year that Cecil John Rhodes began his six-year term ... more information

Mokala is South Africa's newest National Park, situated approximately 80km south-southwest of Kimberley, and west of the N12 freeway to Cape Town. Nestled in the hills, Mokala's landscape boasts a variety of koppieveld (hills) and large open plains. The isolated dolerite hills give the place a calming feeling of ... more information

With a completely different climate to the Cape Winelands, the Northern Cape produces a number of ranges of wines that boast unique flavours. The wine farms in the east have soils with a higher natural acid content and a lower pH level, which results in wines that are crisp and ... more information
Related Links
Things To Do in Kimberley

Where: Kimberley / Douglas
How much (per person): On Request
DaRiva Houseboat is the idyllic place to relax with comfortable accommodation and a fully equipped kitchen (fridge, freezer, stove, hot wate ... more information

Where: Kimberley
How much (per person): R1 to R100
The McGregor Museum was officially founded on the 24th September 1907 when the title deeds were handed over to the Management Committee. Pri ... more information
Related Links
Restaurants in Kimberley

Where: Kimberley
Annabell's restaurant is a pleasant surprise; this fine dining eatery delivers great quality fare with all the trimmings. We strive to make dining out in Kimberley a pleasurable and memorable occasion ... more information

Where: Douglas / Kimberley
Experience more than delicious food ... Broadwater is a private River Escape that nestles on the banks of the Vaal River near Kimberley the town of Douglas. In this pristine aquatic environment you fi ... more information
Related Links
Events and/or Festivals in Kimberley


September
Related Links
On Holiday in Kimberley
• Visitorial - I ♥ Kimberley because...
• Kimberley Hotels
• Kimberley Accommodation
• Diamond Fields Hotels
• Diamond Fields Accommodation
• Map of Kimberley
• Northern Cape Accommodation