Northern Cape Tourist Attractions
Kimberley Mine Museum, Diamond Fields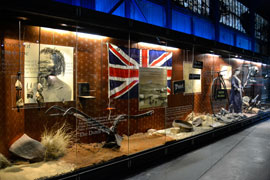 Situated next to The Big Hole, this open-air museum (one of the finest in the world) depicts Kimberley in its Victorian heyday during the diamond rush.

The Mine Museum incorporates shops and houses, a church, diggers' tavern, Barney Barnato's Boxing Academy, and the De Beers directors' private railway coach.

The Transport Hall contains an assortment of late 19-century vehicles, and De Beers Hall houses a display of uncut diamonds, stones of different colours and items of jewellery. Also on display are the "616" (616 carats), the largest uncut diamond in the world, and the "Eureka", the first diamond discovered in South Africa.

Open daily from 08h00 to 17h00.
Kimberley Mine Museum
Overnight Accommodation
Search By Map or see Kimberley Accommodation (with preview images and description). Consider Kimberley Hotels (ranging from 3-5 star) or if you prefer to do it the self catering way, you will find our comprehensive list of Kimberley Self Catering options useful. Also see Diamond Fields Accommodation and Diamond Fields Hotels for overnight options in surrounding towns.
Related Links
Attractions / Activities nearby

Kimberley developed around this huge hole in the ground, formerly a small hill known as Colesberg Koppie, where diamonds were discovered early in 1871. An observation platform provides a good view of the Big Hole, about 365 m deep and covering an area close on 17 ha ... more information

Diggers' Memorial
The Diggers Memorial, a fountain and statue in the form of a diamond sieve held aloft by 5 life-size diggers, was erected in honour of diggers past and present. It is located in the Ernest Oppenheimer Gardens, which are in turn a memorial to the late Sir Ernest Oppenheimer, a mining magnate and the first mayor of Kimberley.