Gauteng Destinations
Sandton Central, Sandton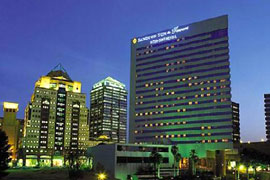 In the heart of Sandton's business district, is a hub identified as the vibrant, high energy cluster of global trade and thought. This hub, known as the Sandton Central Management District, is this commercial centre of South Africa and is home to three improvement districts, namely the Sandton City and Convention Centre Improvement District (SCMD), the Sandton Business Improvement District (SBID), and the Wierda Valley Management District.

The Sandton Central Management District operates within the boundaries of Sandton Drive, Katherine Street into Wierda Road East and West, up West Street, along Rivoinia Road and including the Grayston Drive boundary.


ATTRACTIONS:
Art Galleries:
Sandton's Art Galleries exhibit traditional South African Art as well as international art work. Visit Les Art International at Shop L39 Sandton Square; Gallery on the Square at L32 Sandton Square and the Sandton Civic Gallery Library on the Square.
Sandton Library:
The Sandton library which is situated on Nelson Mandela Square is open to all members of the community. The library has a collection of over 92,000 volumes, as well as audio books, videos, music CDs and language tapes, the local daily and weekly newspapers, periodicals and the Provincial and Government Gazettes. Membership to the library is necessary to borrow material. Contact the Library on Telephone: (011) 881-6400.
The Liberty Life Theatre on the Square:
The Liberty Life Theatre on the Square is a 200-seater theatre that produces and shows an array of outstanding productions that cover a huge spectrum of genre. In this last eight years, it has put on well over 100 productions - all with resounding success. (bookings at Computicket).
Village Walk African Culture Market:
Situated outside the Village Walk Shopping Centre on Maude Street, this African culture market brings authentic African goods to locals and visitors of Sandton.
Totem Gallery:
At the Totem Gallery in the Sandton City Shopping Centre you will find a wonderful and diverse selection of African art such as masks, figures, jewellery, textiles, and functional objects.
Cinema:
Sandton Central has 20 movie houses in two cinema complexes. Nu-Metro and Nedbank Cinema Prive are located at CL 5 Upper level Village Walk Shopping Centre and you will find Ster-Kinekor on the Lower level at Sandton City.
Restaurants:
Sandton Central offers an impressive assortment of 90+ restaurants, bars and cafés. From formal indoor dining and cocktails to fast food snacks and sidewalk coffee shops and sandwiches, you will be spoilt for choice.
Golf:
Golfers are spoilt for choice with a range of excellent golf courses located in surrounding areas including The Bryanston Country Club Golf Course, The Country Club Johannesburg, Riverclub Golf Course and Houghton Golf Club.
SHOPPING:
Shopping is key in Sandton and the reason many visit Sandton. With four world-class shopping centres offering over 450 shops, there is no shortage of place to take in hours of retail therapy. Shop till you drop at:
Michelangelo Towers Mall:
The ultra modern Michelangelo Towers Mall is a showcase of ultra contemporary designer showrooms and superb restaurants, linked directly to the two Nelson Mandela Square shopping mall levels.
Sandton City:
Sandton City Shopping Centre has over 290 shops and includes the Food Court, Banking Mall with bureau de change facilities, Medical Mews and multiple cinemas.
Village Walk:
Stepped and angled like an old European city, but offering all the modern conveniences, Village Walk has over 70 retail, leisure and entertainment venues.
Nelson Mandela Square:
Nelson Mandela Square offers 85 boutiques, shops and salons, offering the sophistication of designer labels, curios and culture, art, African couture, jewellery and books.
NELSON MANDELA STATUE:
On the 31st of March 2004 the world's first public statue of Nelson Mandela - was officially unveiled at what was then Sandton Square, now renamed Nelson Mandela square at Sandton City. This celebratory event also marked the Square's tenth anniversary and commemorated South Africa's first decade of democracy! The six-metre tall bronze statue was erected to honour and pay tribute to the great South African freedom fighter and statesman: President Nelson Mandela. The intention was also to create a focal point where local and foreign tourists could contemplate the events that led to the creation of the miracle of the Rainbow Nation.
Get the Scoop
Sandton Central Reviews
Related Links
Featured Attractions in (or near) Sandton Central

Situated in the heart of Sandton Central, in Johannesburg, South Africa, the Nelson Mandela Square is surrounded by world-class hotels and restaurants. The popular Sandton City Shopping Centre is adjacent to the Square. Sandton Square made headlines when, commemorating South ... more information

The African craft market in Rosebank has turned shopping into a pretty unique experience, particularly for visitors and tourists to the area for whom an introduction to the rather exotic art and culture of Africa is a new experience. A range of arts and crafts is on display by skilled African artists from the ... more information

Sandton City
One of the main attractions in Sandton is Sandton City. This shopping centre is ranked among the largest shopping centres in Africa. Together with Nelson Mandela Square, the centre boasts over 144,000m² of shopping space making it the largest in the Southern Hemisphere! It is definitely any shoppers Mecca.

Sandton Convention Centre
Sandton is home to one of the largest convention centres on the continent. The 12-storey building has more than 22 000 m² of meeting, exhibition and special-event space. Multiple events can be staged simultaneously on four levels and up to 10 000 delegates can be hosted at any one time. Capacities range up to 4 500 guests.
Related Links
Things To Do in Sandton Central

Where: Sandton
How much (per person): On Request
If you are looking for a special gift for Valentine's Day, Mother's Day or an anniversary, Geldhof Chocolatier's specialist chocolate stores ... more information
Related Links
Events and/or Festivals in Sandton Central
Location: Sandton
Duration: 2 days

July
Location: Sandton
Duration: 3 days

Related Links
On Holiday in Sandton Central
• Sandton Accommodation
• Sandton Hotels
• Sandton Guest Houses
• Sandton Attractions
• Sandton Map
• Gauteng Accommodation