Gauteng Destinations
OR Tambo International, East Rand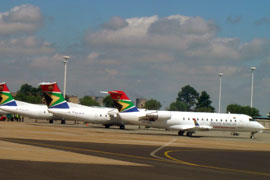 Once you've booked your accommodation in OR Tambo International explore our pages for info on attractions and what to do in OR Tambo International.

Formerly known as Johannesburg International Airport, the OR Tambo International Airport is a large airport near the city of Johannesburg, South Africa.

OR Tambo International Airport serves as the primary airport for domestic and international travel to or from South Africa. TheAirport is Africa's busiest airport, handling over 16 million passengers yearly. The airport is the hub of South Africa's largest international and domestic carrier, South African Airways (SAA), and a number of smaller local airlines. Interestingly, the airport was founded in 1952 as "Jan Smuts Airport", two years after his death, near the town of Kempton Park on the East Rand. It displaced the "Palmietfontein International Airport", which had handled European flights since 1945.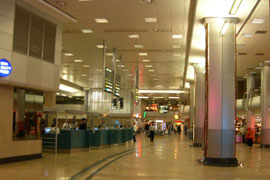 The first renaming was done in 1994 when the newly reformed South African government implemented a national policy of not naming airports after politicians. It was renamed again on 27 October 2006 after Oliver Tambo, the former President of the African National Congress (ANC).
During the 1980s many countries stopped trading with South Africa because of the United Nation sanctions forced against South Africa in the struggle against apartheid, and many airlines had to stop flying to the airport. These sanctions resulted in South African Airways being refused rights to fly over most African countries. Following the ending of apartheid, the airport's name, and that of other international airports in South Africa, was changed to politically-neutral names and these restrictions were ceased.
There are two parallel runways, which run north-south, and a disused cross runway. The western runway, is over 4400 m in length, making it one of the world's longest international airport runways. There are six terminals at the airport, but these can be broken down into three major areas: the international terminal; the domestic terminal; and the transit terminal.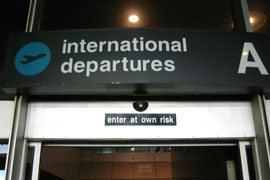 This spectacular airport boasts hundreds of shops, restaurants and bakeries all offering different tastes. When waiting for flights, travelers are able to rest, feast and even shop till their hearts content.
OR Tambo International Airport
also serves as grounds for the South African Airways Museum. This is a large room filled with South African Airways memorabilia and which started as an idea by two fans of the airline until they could set it up in one of Jan Smuts International's buildings in 1987. The Oliver Tambo International Airport has experienced numerous developments and improvements over the years and is always increasing in size. The entire airport is beautifully designed and decorated making it one of the best and most comfortable airports in South Africa.
Get the Scoop
OR Tambo International Reviews

"I must say that as the owner of Avon Rd Guest House I collect International Guests weekly and I cannot praise the airport enough, everything is very easy to ..." - Christine, Boksburg
Related Links
Featured Attractions in (or near) OR Tambo International

Just outside Johannesburg in Boksburg, the East Rand Flea Market lies right next to the East Rand Mall, and as a result, is open just about all week, except for Mondays, to sell its wares to shoppers, who delight in the array of goods that range from African artwork, to any number of handcrafted goods, a budding home ... more information
East Rand Mall
East Rand Mall is situated 7km away from OR Tambo Airport. The Mall includes all of South Africa's Major Chain Stores and a host of smaller specialised stores. Extensive entertainment facilities, which include a Games Arcade, Restaurants, Coffee shops, a nine theatre Cinema Centre and an exciting Food and Entertainment Mall.

The Gautrain is an 80 kilometre mass rapid transit railway system, which is a long-winded way of saying that Johannesburg constructed a (really) fast train that cuts out all of the traffic to and from the airport, just in time for the Soccer World Cup of 2010. Its presence is estimated to cut 20% of the ... more information
Related Links
Things To Do in OR Tambo International

Where: OR Tambo International
How much (per person): Price on request
Witness first hand, the art of diamond cutting and the careful craftsmanship of jewellery manufacturing from our skilled professionals - all ... more information

Where: OR Tambo International
How much (per person): Price on request
Take flight in the 'Tante Ju', which is a plane that plays a big part in South Africa's early aviation history. This plane is one of six Jun ... more information
Related Links
On Holiday in OR Tambo International
• OR Tambo Airport Map
• Johannesburg Airport Accommodation
• Johannesburg Airport Hotels
• East Rand Accommodation
• East Rand Hotels
• Gauteng Accommodation
• OR Tambo International Airport Hotels
• OR Tambo International Airport Accommodation