Gauteng Destinations
Melrose North, Sandton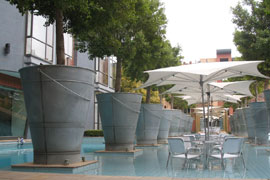 Once you've booked your Melrose North accommodation explore our pages for info on attractions and what to do in Melrose North.

Melrose North, regarded as a suburb of Sandton, lies perfectly sandwiched between Rosebank and Sandton City, with easy access to the M1, the Corlett Drive onramp and within walking distance of Melrose Arch and the Wanderers Club, famous for its cricket stadium. You're well placed if this is your chosen suburb. Melrose North is upmarket old-style Johannesburg. Homes here are sizeable and gardens leafy and cultivated, everything touched with a modern brush, the neighbourhood safe and contemporary.

Melrose Arch, just up the road, makes staying here something of an experience, if you don't want to venture far. Intended as a harmonious amalgamation of work, play and home space, the rather monolithic structure is a combination of shops, restaurants, and office and play space. The trendy square is surrounded by restaurants with open-air sidewalk seating - an African take on the distinctly popular European eating style. The various apartments, lofts and penthouses above the square are touted as the height of fashionable living, whilst the offices are best viewed in a flyby on the M1 en route to central Johannesburg.

The garden suburb of Johannesburg, Norwood, just down the road, has a distinctly bohemian flavour with numerous small high street boutiques, cafés and coffee bars, set along tree-lined streets that invite relaxation. Distinctly different is a trip to Sandton City, more or less in the opposite direction from Norwood, where glitz and glamour turn shopping into an art form.
Get the Scoop
Melrose North Reviews
Related Links
Featured Attractions in (or near) Melrose North

Melrose Wild Bird Sanctuary
Spend the day at the Melrose Wild Bird Sanctuary. Here one will witness a symphony of birdsong and vibrant colours. There are more than 120 wild bird species in the reedbeds and indigenous trees around the shimmering lake. Bring your picnic basket and enjoy a fun family outing in spectacular surrounds ...

The African craft market in Rosebank has turned shopping into a pretty unique experience, particularly for visitors and tourists to the area for whom an introduction to the rather exotic art and culture of Africa is a new experience. A range of arts and crafts is on display by skilled African artists from the ... more information

Sandton City
One of the main attractions in Sandton is Sandton City. This shopping centre is ranked among the largest shopping centres in Africa. Together with Nelson Mandela Square, the centre boasts over 144,000m² of shopping space making it the largest in the Southern Hemisphere! It is definitely any shoppers Mecca.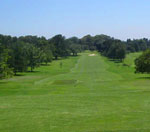 Lying alongside the famous Wanderers cricket stadium, the scenic 18-hole Wanderers Golf Course is centrally located and plays 6 274 metres long, with a par of 72. The ground has played host to many top events, ample proof of its outstanding condition. The course is placed right next door to... more information
Related Links
Things To Do in Melrose North

Where: Melrose
How much (per person): Free to Browse
Located in the suburb of Birdhaven, not a minute's walk from the Wanderers and close to Melrose Arch, In Toto Gallery is an exciting new Joh ... more information

Where: Melrose
How much (per person): On Request
The first ever Acrobranch in South Africa is situated in the picturesque James and Ethel Grey Park around the corner from Melrose Arch. Perf ... more information
Related Links
On Holiday in Melrose North
• Melrose North Accommodation
• Melrose North Hotels
• Sandton Accommodation
• Sandton Hotels
• Gauteng Accommodation