Gauteng Destinations
Kelvin, Sandton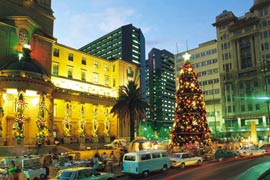 Once you've booked your Kelvin accommodation explore our pages for info on attractions and what to do in Kelvin.

The leafy upmarket suburb of Kelvin lies a relatively short distance from the Buccleuch Interchange, where no less than three major highways connect, to the East of M1 highway, making access to anywhere around the city fairly easy if there are no snags in the traffic. The pretty boomed suburb that has only two points of access also has 24 hour security and is increasingly popular with residents of Johannesburg wanting easy access to Sandton, the business and entertainment centre of the bustling city.

One of the main advantages of staying in Kelvin is the ease of access to the M1, the major tributary in and out of Johannesburg, and north to Midrand and Pretoria. Kelvin is also one of the suburbs best situated to straightforwardly reach the airport. Its proximity to Sandton is a bonus and one of the reasons the suburb has only one small shopping centre of its own.

In the heart of Kelvin lies a tranquil green area run by the city as a park and sports club that lends the suburb, together with pretty gardens, a peaceful atmosphere and makes a stroll around the neighbourhood of Kelvin most enjoyable. There is no shortage of places to visit and things to do when staying so centrally.

Rosebank rooftop flea market on a Saturday morning is a must for delectable cheese and an amazing selection of arts and crafts, the Nelson Mandela square in Sandton is a collection of restaurants, their tables artfully laid out on the square conducive to languid lunches and long coffee breaks, whilst the myriad shops of Sandton City deserve a visit.
Get the Scoop
Kelvin Reviews

"Ideally situated for businessand leisure traveler,only 6 minutes away from the heart of Sandton,South Africa's premier business and entertainment centre. Close ..." - Lily -Jane Mazibuko, Sandton (KELVIN )
Related Links
Featured Attractions in (or near) Kelvin

Situated in the heart of Sandton Central, in Johannesburg, South Africa, the Nelson Mandela Square is surrounded by world-class hotels and restaurants. The popular Sandton City Shopping Centre is adjacent to the Square. Sandton Square made headlines when, commemorating South ... more information
Roof-Top Market @ Rosebank Mall
50 Bath Ave, Rosebank. Sundays and public holidays from 9.30am - 5pm. The Rooftop Market is regarded by many as South Africa's best flea market, and is well patronised by locals and tourists. More than 500 stalls offer quality clothing, ceramics, art and craft objects, antiques and collectibles.
Related Links
On Holiday in Kelvin
• Kelvin Accommodation
• Kelvin Guest Houses
• Sandton Accommodation
• Sandton Hotels
• Gauteng Accommodation