Gauteng Destinations
Buccleuch, Sandton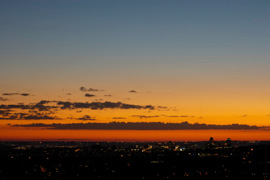 Once you've booked your accommodation in Buccleuch explore our pages for info on attractions and what to do in Buccleuch.

Buccleuch is the undiscovered jewel of Sandton, located midway between the N1 and the N3 (when travelling from Durban and Johannesburg International Airport).

Buccleuch has its own off ramp to the highway, and at the Buccleuch interchange the M1, N1 and N3 highways meet making for quick and easy access to the Sandton Central Business District which is of course, ideal for business tourists to Sandton.

The suburb is an old and well established one with leafy green tree-lined streets, that has grown in recent years due to new development. Buccleuch is located alongside the Jukskei River, bordered in the East by the Modderfontein River. Between the two rivers is the older part of Buccleuch. The newer parts of Buccleuch have been developed with security in mind and are mostly secure townhouse complexes.

Buccleuch boasts its own shopping mall and alongside the Old Pretoria Road is the Buccleuch Driving Range. The suburb is within easy driving distance of Johannesburg's International Airport making it an ideal tourist stop-over suburb.
Get the Scoop
Buccleuch Reviews
Related Links
Featured Attractions in (or near) Buccleuch

The Gautrain is an 80 kilometre mass rapid transit railway system, which is a long-winded way of saying that Johannesburg constructed a (really) fast train that cuts out all of the traffic to and from the airport, just in time for the Soccer World Cup of 2010. Its presence is estimated to cut 20% of the ... more information

Situated in the heart of Sandton Central, in Johannesburg, South Africa, the Nelson Mandela Square is surrounded by world-class hotels and restaurants. The popular Sandton City Shopping Centre is adjacent to the Square. Sandton Square made headlines when, commemorating South ... more information

Sandton City
One of the main attractions in Sandton is Sandton City. This shopping centre is ranked among the largest shopping centres in Africa. Together with Nelson Mandela Square, the centre boasts over 144,000m² of shopping space making it the largest in the Southern Hemisphere! It is definitely any shoppers Mecca.

The country club Johannesburg is one of Africa's finest golfing facilities, with two championship courses on a large piece of ground in the plush northern suburbs. The Woodmead Course opened in 1968 and Woodlands in 1992 and both are splendid 18 hole layouts with opinion... more information
Related Links
On Holiday in Buccleuch
• Where to Stay in Buccleuch
• Buccleuch Guest Houses
• Sandton Accommodation
• Sandton Hotels
• Sandton Map
• Gauteng Accommodation