Gauteng Destinations
Beaulieu, Midrand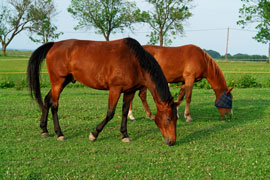 Once you've booked your Beaulieu accommodation explore our pages for info on attractions and what to do in Beaulieu.

Practically rural, the suburb of Beaulieu (pronounced 'Bewley'), despite being neighbour to Kyalami in Midrand, remains a rather dignified and countrified suburb where the horsey-set live on large estates heavily encircled by security fencing, and accessed through one 24-hour security entrance.

Homes in Beaulieu are predominantly Tuscan style villas with large, rolling gardens and a sense of effortless peace and quiet. Beaulieu, which comes from the French meaning "beautiful" but is named after the little town of Beauly west of Inverness in the Scottish Highlands, lies on the outer northern limits of Johannesburg - one of several highly desirable affluent suburbs. It has managed to persevere as one of the few areas in Jo'burg undisturbed by the insistent push for development, even if estates and complexes have steadily encroached.

Homesteads here are large with views that remain predominantly green and reminiscent of country living. Staying here is ideal as you have the best of both worlds. Country living yet, because of the insistent urban sprawl that has led to the steady encroachment of the city, Beaulieu is never far from anything.

Beaulieu is close to the Midrand business district, only 25 minutes' from OR Tambo airport and the restaurants and shopping malls of Kyalami are a matter of minutes. It lies halfway between Sandton and Pretoria yet close enough to the Magaliesberg to enable easy weekend escapes.
Get the Scoop
Beaulieu Reviews
Visitorials: We Love South Africa
Beaulieu Visitorial

Related Links
Featured Attractions in (or near) Beaulieu

Glen Austin Bird Sanctuary
The Bird Sanctuary is home to many birds. These include Crimson Breasted Shrikes, Pied Barbit, Tit Babbler, Black Cuckoo Shrike whilst Crombeck and Bru Bru Shrikes, White and Abdims Storks, Black Headed Herons, Helmeted Guinea Fowl, Rock Pigeon and Black Crows have also been observed.

Kyalami Country Club is just a few minutes drive from South Africa's grand prix motor racing circuit just north of Johannesburg. Kyalami is an eighteen hole golf course situated conveniently between Pretoria and Johannesburg in a superb setting in Kyalami. Kyalami offers its members and visitors a... more information

Kyalami Racing Circuit
The Kyalami Motor Racing Circuit is an international renowned racetrack and is the venue for many of South Africa's premier motor racing events. The circuit has been used for Grand Prix and Formula One races and has hosted the South African Grand Prix a number of times.

South African Lipizzaners
The Lipizzaners are situated in the small holdings of Kyalami. Every Sunday they perform a classical dressage show to classical music in which they skip, trot on the spot, side step, high step, and jump off the ground and kick with their back legs at the same time. See them at 10:00 am every Sunday.
Related Links
On Holiday in Beaulieu
• Visitorial - I ♥ Beaulieu because...
• Beaulieu Accommodation
• Beaulieu Hotels
• Midrand Accommodation
• Midrand Hotels
• Midrand Map
• Gauteng Accommodation
• Gauteng Hotels
• South Africa Hotels
• South Africa Accommodation