Game Reserves in South Africa
Gauteng Game Reserves
Gauteng has several spectacular botanical gardens, bird sanctuaries and nature reserves and a veritable treasure trove of archaeological, paleontological and geological sites (see Cradle of Humankind). See wildlife close up at the Lion and Rhino Park just outside of Johannesburg or visit the De Wildt Cheetah Research Station on the way to the scenic Hartbeespoort Dam.

Gauteng Game Reserve Map:
Click on the game or nature reserve on the map or use the list below to view additional information about the individual nature reserves, national parks and game reserves and for listings of all game lodges listed in the relevant area.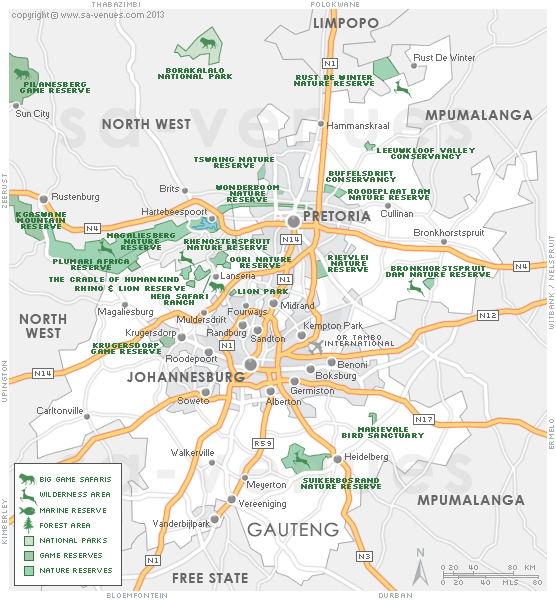 Gauteng Safaris
Experience a unique South African Tour / Gauteng offers visitors a convenient location from which to embark on a wildlife safari to the game parks in South Africa. Choose a package tour ranging from a single overnight stay to multiple days in a Game Reserve - There are plenty of options to choose from.
game and nature reserves in gauteng
Combine your wildlife safari with a relaxing, revitalising visit to a health spa ... and enjoy Africa at its finest. View our exclusive collection of spas, wellness centres and health resorts in Gauteng.